Search Engine Optimization (SEO)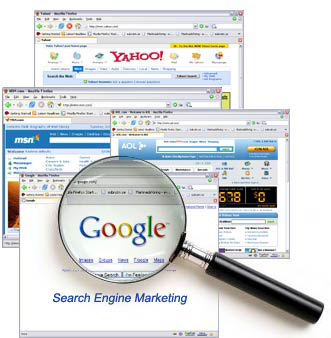 Whenever you enter a query in a search engine and hit 'enter' you get a list of web results that contain that query term. Users normally tend to visit websites that are at the top of this list as they perceive those to be more relevant to the query. If you have ever wondered why some of these websites rank better than the others then you must know that it is because of a powerful web marketing technique called Search Engine Optimization (SEO).
SEO is a technique which helps search engines find and rank your site higher than the millions of other sites in response to a search query. SEO thus helps you get traffic from search engines.
Here are some of the most important steps to Optimize your web site on Search Engine
Links
Image-in offer link building services that really do make a difference to your Google search position. Links are Google's primary factor for ranking sites, the more quality links you acquire the higher you will rank.
Link-building is one of the difficult and time consuming tasks.
Our strategy is based on Link Exchange software. Our goal was to save you time, money and frustration by automating the link building process, allowing you to focus your efforts on other tactics. We know it's an effective solution because we use it too!
Not all links are created equal. Obtaining one-way links from websites with high Page Rank is often cited as the "Holy Grail" of link building. In order to deliver the best value back to you, we only work with quality websites that have been indexed by Google.
Keyword Research
One of the fundamental principles behind SEO is the idea of the "long tail"
 The majority of organic search visitors came from thousands of long tail queries rather than a handful of bigger terms and we help our clients to find the right keywords in their content and structure to take full advantage of this.
As an example, if we were working for a finance company we might want to target the following keyword list:
Forex
Forex Trader
Expert Forex trader
Tips for advanced Forex trader
We could then construct a page with the title "Forex – Tips for Advanced & Expert Forex Traders" which targets all 4 key phrases with the one page.
This example is simple, now it's easier to see how to expanding the list of keywords from 4 to 400 that would achieve an efficient strategy.
Here are some tips and factors that can help your rankings score in search engines.
Keywords
Keywords in <title> tag
This is one of the most important places to have a keyword because what is written inside the <title> tag shows in search results as your page title. The title tag must be short (6 or 7 words at most) and the keyword must be near the beginning.
Keyword density in document text
Another very important factor you need to check. 3-7 % for major keywords is best, 1-2 for minor. Keyword density of over 10% is suspicious and looks more like keyword stuffing, than a naturally written text.
Keywords in URL
Keywords in URLs help a lot - e.g. - http://myvebsite.com/My_Key_Word.html, where "SEO services" is the keyword phrase you attempt to rank well for. But if you don't have the keywords in other parts of the document, don't rely on having them in the URL.
Keywords in <alt> tags
Spiders don't read images but they do read their textual descriptions in the <alt> tag, so if you have images on your page, fill in the <alt> tag with some keywords about them.
Secondary keywords
Optimizing for secondary keywords can be a golden mine because when everybody else is optimizing for the most popular keywords, there will be less competition (and probably more hits) for pages that are optimized for the minor words. For instance, "web designer Tel-Aviv" might have thousand times less hits than "web designer" only but if you are operating in Tel-Aviv, you will get less but considerably better targeted traffic.
Metatags
<Keywords> metatag
The <Keywords> metatag also matters, though as all metatags it gets almost no attention from Google and some attention from Bing and Yahoo! Keep the metatag reasonably long – 10 to 20 keywords at most. Don't stuff the <Keywords> tag with keywords that you don't have on the page, this is bad for your rankings.

Content
Unique content
Having more content (relevant content, which is different from the content on other sites both in wording and topics) is a real boost for your site's rankings.
Keywords font size
When a keyword in the document text is in a larger font size in comparison to other on-page text, this makes it more noticeable, so therefore it is more important than the rest of the text. The same applies to headings (<h1>, <h2>, etc.), which generally are in larger font size than the rest of the text.
Keywords formatting
Bold and italic are another way to emphasize important words and phrases. However, use bold, italic and larger font sizes within reason because otherwise you might achieve just the opposite effect.